"BP TOURIST" Telma 21 OSOBOWY BP.219
MB SPRINTER 519 XL
BP.219 – autobus w wersji turystycznej "BP TOURIST"
Zabudowa autobusowa na bazie Mercedes-Benz Sprinter 519
---
Busprestige producent autobusów i busów prezentuje autobus w wersji turystycznej na bazie pojazdu Mercedes-Benz Sprinter model 519 w konfiguracji siedzeń 19 miejsc pasażerskich + 1 miejsce kierowcy + 1 miejsce pilota. 
---
Krótka charakterystyka produktu:
Standard pojazdu:
Marka: MB Sprinter 519 CDI przedłużany XL
Silnik: 3000 ccm / diesel
Skrzynia biegów: automatyczna
Hamulec Telma
Zabudowa autobusowa:
Typ zabudowy: autobus turystyczny BP.TOURIST
Liczba miejsc: 19 + 1 + 1
Wejście: drzwi przednie panoramiczne, sterowane elektrycznie
Ogrzewanie powietrzne
Ogrzewanie konwektorowe
Klimatyzacja dachowa
Tylni pogłębiany bagażnik
---

---
Oferujemy bogate wyposażenie wnętrza pojazdu, nowoczesne rozwiązania i atestowane systemy gwarantujące Państwa Klientom bezpieczną i komfortową podróż.
---
Busprestige posiada elitarny status Van Partner of Mercedes-Benz oraz status VW Accredited Converter gwarantujący nabywcy bezpieczeństwo, wiarygodność oraz najwyższą jakość zabudowy.

Busprstige na wykonane autobusy wystawia dokument COC (Completed Vehicle EC Certificate of Conformity) stanowiący podstawę dopuszczenia pojazdu do ruchu w Unii Europejskiej. Busprestige posiada homologacje europejskie zgodnie z dyrektywą 2007/46/EC.
7.0 - AUDIO
7.1 - Radio 2DIN
7.2 - Monitor TV
Wyposażenie podstawowe pojazdu:
Mercedes-Benz Sprinter 519 CDI
Typ silnika: diesel
Pojemność silnika: 2987 cm
Moc pojazdu 140 kW | 190 HP
Emisja spalin: Euro VI C
Skrzynia biegów: automatyczna
Wyposażenie dodatkowe pojazdu:
Asystent utrzymania pasa ruchu
Ogranicznik prędkości: 100 km/h
Tempomat
Hamulec retarder TELMA
Klimatyzacja fabryczna kierowcy
Sensor świateł i deszczu
Wzmocnione stabilizatory, amortyzatory, resory
Wzmocnione opony o rozmiarze 205/75/R16
Powiększony zbiornik paliwa 100 litrów
Światła przednie Bi-Xenon
Dogrzewacz elektryczny PTC
Elektryczne szyby
Elektryczne sterowane i ogrzewane lusterka
Siedzenie kierowcy komfortowe z podłokietnikiem
Busy to Nasza Pasja
Busprestige mission is customer satisfaction resulting our passion for buses.
VanPartner by Mercedes-Benz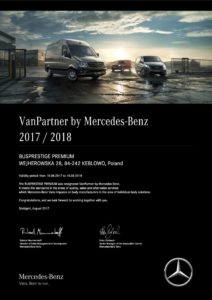 Referencje
Modern buses. Best Quality. I am very happy with cooperation with Busprestige company.

Tiempo Travel - Alex Engel (Espania)

We bought the first car from Busprestige. It was a good decision. The bus was made in accordance with the Order and on time. The company provides vehicle service. We are planning next purchases at Busprestige company.

Luxtravel Agency - John Smith (UK)

Słyszałem dużo pozytywnych opinii o firmie Busprestige. Postanowiłem odwiedzić firmę i zobaczyć jak wygląda ich produkcja. Podobało mi się, że kontrolują jakość na każdym etapie produkcji oraz posiadają własny dział serwisowy. Kupiłem pierwszego bus i jestem bardzo zadowolony. Kolejne busy tylko z Busprestige.

Jacek Lechicki - Właściciel Firmy Usługi Transportowe (Polska)

Serdeczne podziękowania za dobrze wykonana pracę. Busik wyszedł super.

Andrzej Kozłowski - Vipbus (Polska)

Ich habe meinen Bus bei der Firma BUSPRESTIGE gekauft und bin von meinem Einkauf sehr zufrieden. Der Bus ist jetzt schon seid 8 Monaten non stop in Einsatz und alles läuft super.

Helmut Muller Resien Travel (Österreich)

vor einem Jahr haben wir unseren ersten Sprinter Reisebus bei BUSPRESTIGE gekauft jetzt bestellten wir schon den nächsten, einfach eine super qualität, deutschprechender Ansprechpartner und ein sehr guter Service, so eine Firma kann ich vom ganzen Herzen nur empfehlen!

Hans Heckmann (Deutschland)

Bin Stammkunde bei Firma Busprestige und unsere Busse fahren in der Schweiz. Ich bin mit der verarbeitung und der qualität der Busprestige Busse sehr zufrieden. In dieser Firma bekommen wir immer eine kompetente, ausführliche und sehr freundliche Beratung. Die Bestellung so wie auch die komplette Kaufabwicklung ist TOP!

Heinrich Baumann (Schweiz)
Subscribe to Our Newsletter
Recent Vehicles
Last added buses